Acne Types: How to Recognize What Kind of Acne You Have
We all know acne when we see it invading our faces.
Pimples, zits, whatever. Does it really matter what I call the pulsing monster on my forehead, or the endless spots on my nose? Maybe not, but then again, it couldn't hurt to know what acne types you're dealing with if you're serious about treating it as soon as possible. In general, acne and all of its variations are caused by oxidized sebum and clogged pores. Here is a list of the main acne types and a little bit of information on what causes them.
Whiteheads: Whiteheads, also known as closed comedones, appear in the form of slightly whitish, flesh-colored bumps or dots. They form when oil, dead skin cells, and bacteria get trapped in your pores— they're basically clogged pores that aren't inflamed. Because whiteheads are clogged below the surface of the skin, they remain closed and flesh-colored, the top looking more white, thus called a whitehead. They look just like little bumps under the skin, sometimes a little more whitish than your skin color. Whiteheads are a fairly mild form of acne, and can be easily treated, though they can be stubborn sometimes.
Blackheads: Blackheads are another acne type and are almost identical to whiteheads in that they are non-inflamed clogged pores. The only difference is that with blackheads, the blocked pore remains open instead of closed. If a blocked pore's top is open, the pore is exposed to air where the lodged sebum and keratin are oxidized, turning the whole thing black. Like whiteheads, blackheads are caused by trapped oil, dead skin cells, and bacteria in pores.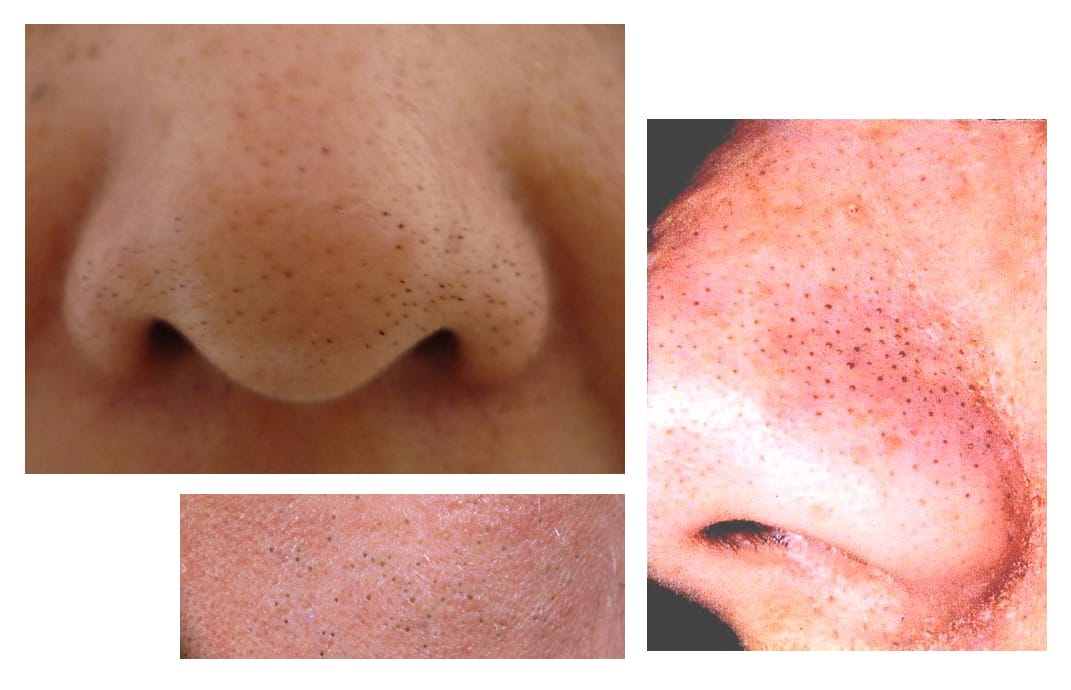 Papules: Papules are clogged pores that are inflamed. They appear as tender red bumps, but they're hard when you touch them. They're usually fairly small and are somewhat raised. Papules form when a clogged pore (so a blackhead or whitehead) gets irritated, swelling up, turning red, and becoming painful. This is what inflammation is. The defining factor of papules is that they are not filled with pus, though they may get filled up with pus later. To avoid getting papules, leave blackheads and whiteheads alone — fingers off! You should also avoid irritating or harsh cleansers.
---
---
Pustules: Pustules are what we've come to know as zits. Like papules, they are inflamed clogged pores with the exception of the pus that fills their centers. You can tell if you have pustules if you can see yellowy or whitish heads on your pimples, which feel like blisters. Pustules are essentially even more irritated papules.
Nodules / Cysts: Nodules and cysts are severe forms of acne and are much larger than papules and pustules. When blocked pores get even more irritated, they get even bigger, and can go deeper into your skin, too. Nodules and cysts appear in the form of painful bumps under the skin. They're usually really stubborn and can take forever to go away, possibly leaving behind scars in the process. Nodules are the hard ones which aren't usually filled with pus, whereas cysts are filled with pus and are softer, feeling like fluid-filled sacs underneath the skin. You can tell if your acne is nodules or cysts by the size and severity of inflammation. Nodules and cysts are very painful, large, and protruding. You couldn't mistake 'em.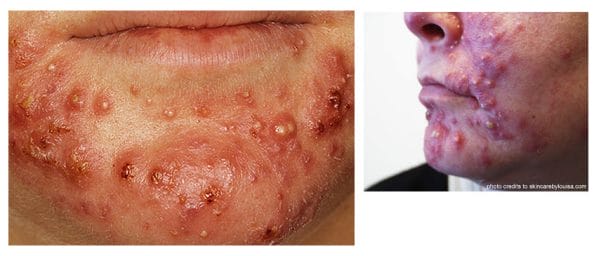 There are other types of acne as well, but this covers the most common types you are likely to encounter.
Most acne can be helped if not completely cleared up using more natural approach than your doctor or dermatologist would recommend. Despite common belief, diet DOES play a big role in acne. So does genetics, stress and hormones. Your skin is the largest organ in your body and if it is unhappy, there is a reason for it. Most acne treatments today try and treat the symptom (the actual pimple) and not the problem that is causing the acne. Acne is not caused by a dirty face!
Many acne sufferers have vitamin and mineral deficiencies. Some of the common deficiencies are vitamin A, C, D, E, zinc and magnesium. By supplementing with the proper amounts and ratios of vitamins and minerals you can have a dramatic effect on your acne and overall skin health. If you think deficiencies of vitamins or minerals could be causing your acne, please visit our website at www.innateskin.com and check out the Clear Skin Vitamin Pack™.